Vinay and His Adventurous Chadar Trek with Thrillophilia!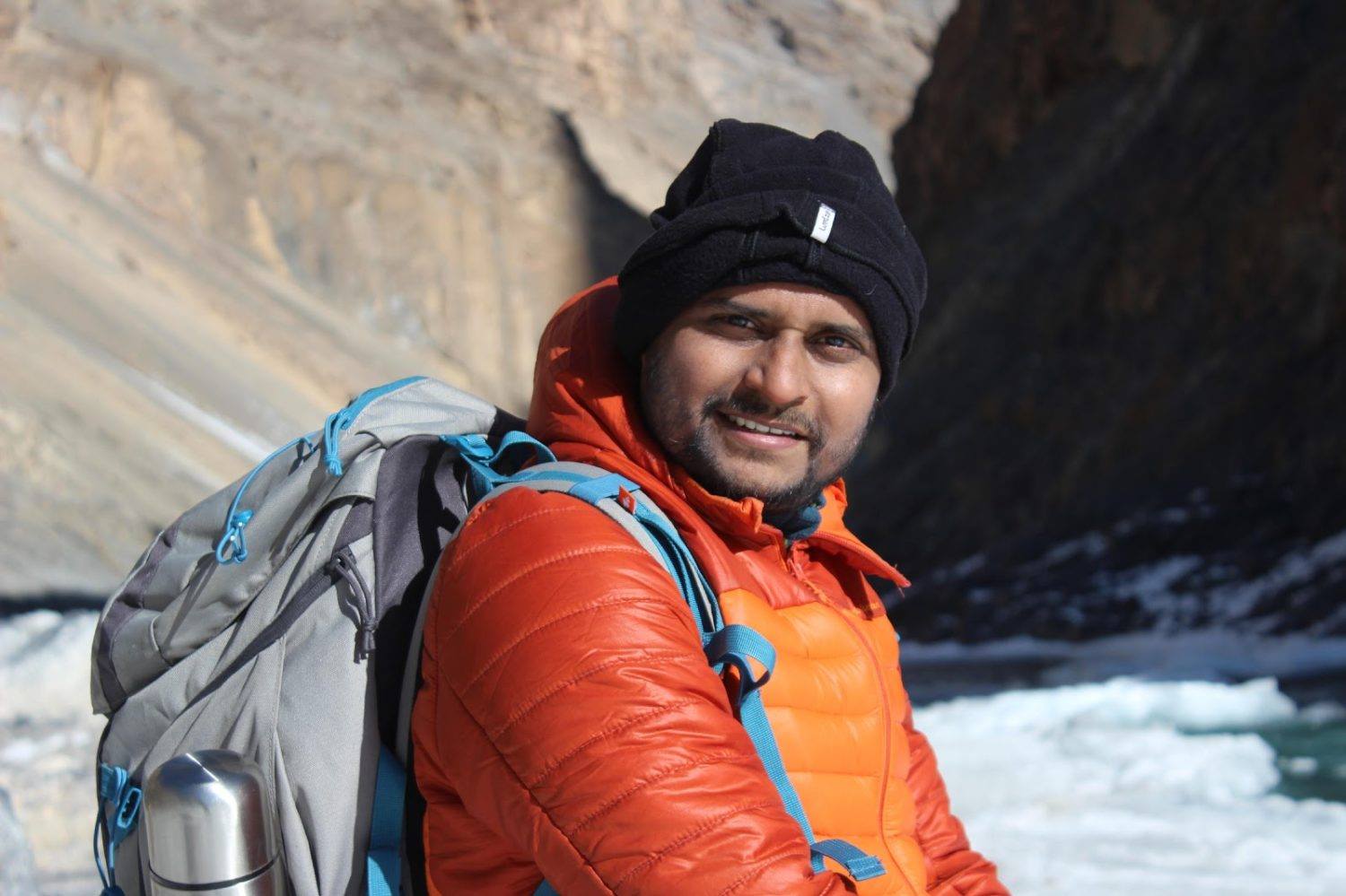 Traveling to your favorite destination has a different emotion attached to it, but traveling to a destination for the first time is a whole new adventure. In today's article we bring to you the adventurous story of Vinay Prajapat, who went on his first ever trek in the snow capped mountains of Chadar valley.
"-tucked inside a double layer of warm bedding, the cold winds gushing through the valley, made us shiver from inside our bones. It was the first night at the camp which was the most difficult night to pass."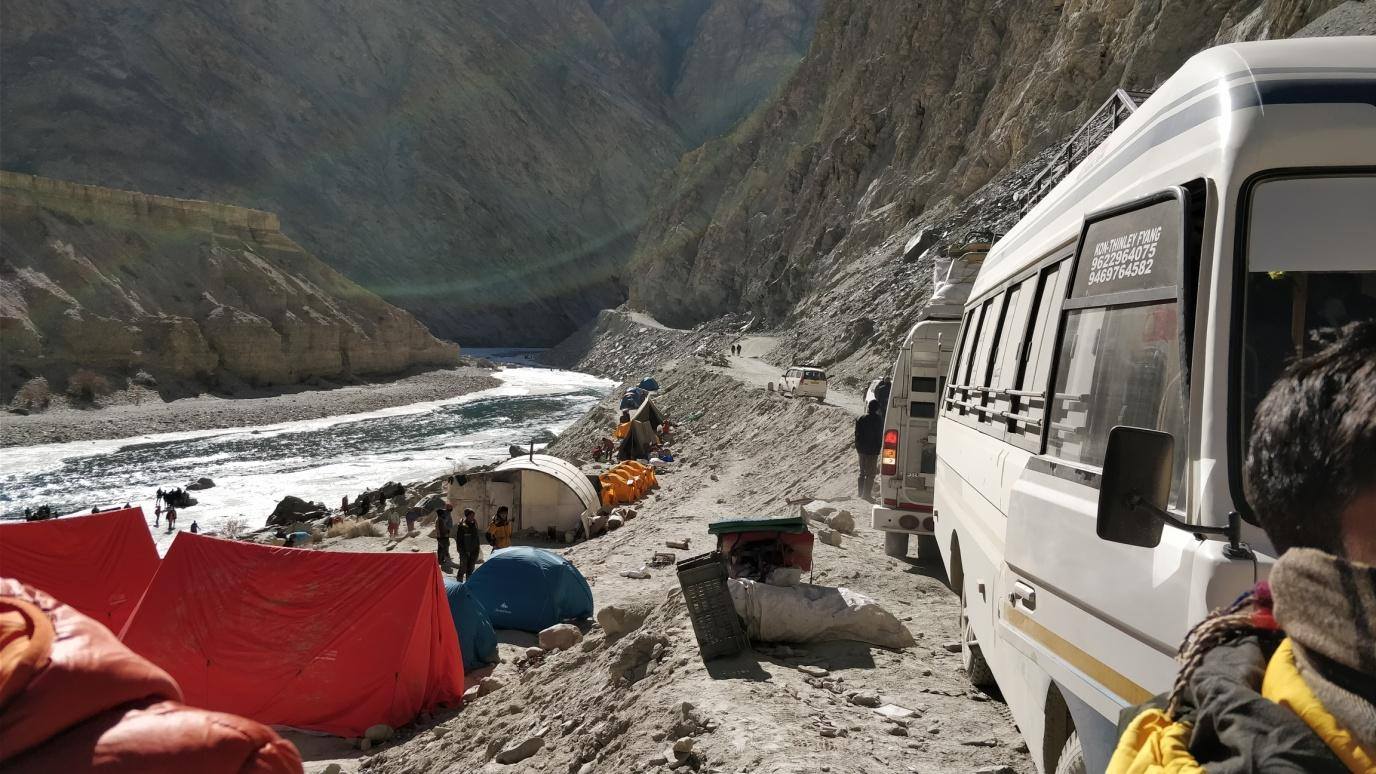 Meet  Vijay, an engineer from Ahmedabad, working towards his dream of conquering the toughest trek of India with zero experience in hiking or trekking. There are many people who dream, but only few drag their way out towards fulfilling their dreams. He is a person who dreamed, prepared and conquered the chadar trek, in one go.
One day just lazing around watching Youtube videos, Vijay came across a video projecting 'India's most difficult treks', and the moment he saw information about Chadar trek, he decided he wants to go! So after a few months of planning and preparation, he was standing on the frozen routes of the trek surrounded by Himalayan mountains.
One thing he really believes in is thoroughly preparing for a trip before leaving the home. It doesn't matter what the nature of the trip is, whether it's a shallow dive into the ocean, or high jump from the plane, or hiking your way up the mountains, one should always be prepared. According to him, passion, patience, and information are the key principles for a successful trip.
He quotes, " we faced less difficulties during our trip, as we were well informed about the trip."
Well we are not surprised with his enthusiasm towards travel as his life motto is, "To Travel is to Live." With this energy he is already looking forward to going on either The Valley of Flowers Trek (Uttarakhand)  or maybe The Bhrigu Lake Trek (Himachal Pradesh).
The Planning Phase
"- I had never gone on a trek before in my life, but after stumbling upon a youtube video about Indian treks, I decided to go the toughest trek of India, the Chadar Trek" recalls Vijay, as he shares his experience with us, post trip.
As a curious person by nature, Vijay started gathering every single information that is available on the internet, about Chadar Trek. He read almost all travelogs, blogs, and articles that mentioned the 'Chadar' word in it. Little did he know that he will be creating his own travelog in his life.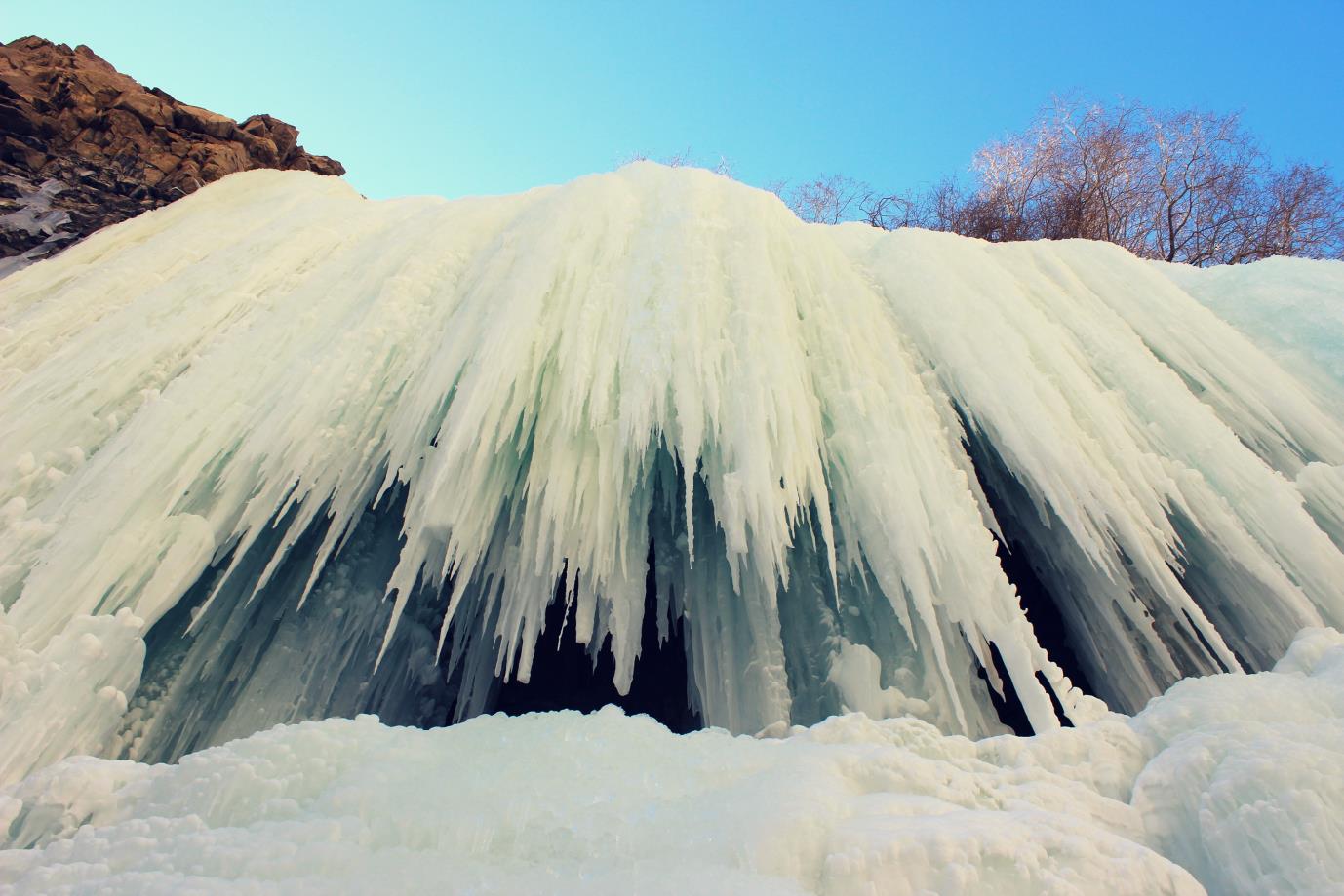 Months spent on thorough research, and finally in the second half of the year 2017, Vijay decided to trust Thrillophilia with his bookings and other arrangements. In early 2018, he experienced an amazing experience of his first trek and with our services as well.
Adventure Buddies
Vijay was accompanied by his good friend Drashti, but as the strange roads spread their charm, by the end of the trip the whole group was a family. Starting from strangers to becoming friends, he quotes, " Crazy for photographers, these lazy lads were just amazing  throughout the trip.."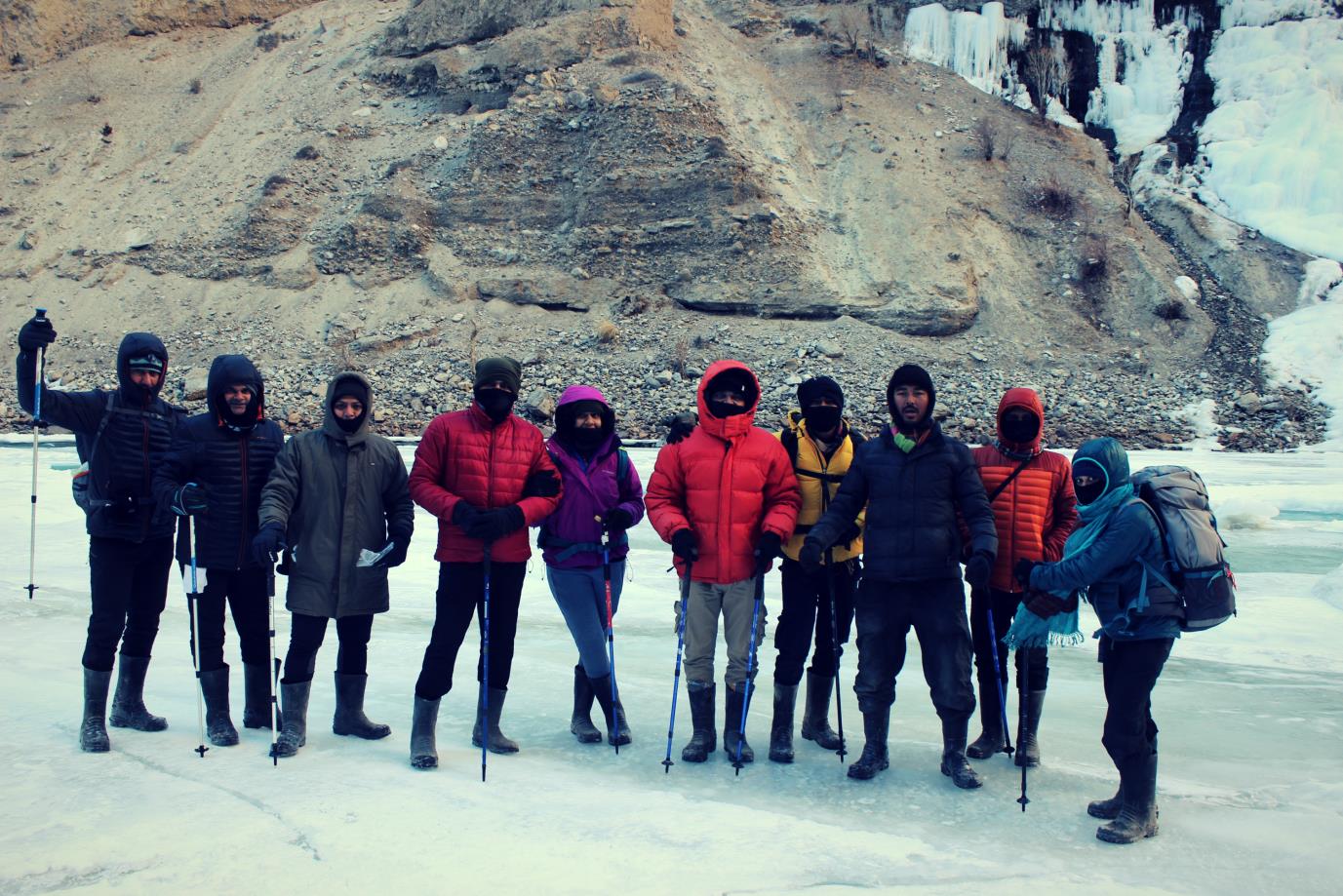 The featured photos and videos, solely speaks a thousand words about his experience of the frozen trek trails.
The Crazy Itinerary of Chadar Trek
Flying over the snowy mountains and frozen roads, Vijay started his trip on 20th January, 2018. As advised by the trek leader, a one day resting or acclimatizing (as they call it) is necessary by all the guests who are visiting Leh-Ladakh. So for a successful trek to Chadar, Vijay and his friend Drashti needed to take some rest, while they could enjoy the lively markets of Leh, and catch some Ladakhi slang from the locals.
After their one day rest in Ladakh, their trip would begin covering major attractions such as, Shingra Koma, Chilling, Gyalpo, Tibb Caves, Tilad Do, and Nerak.
Bright Days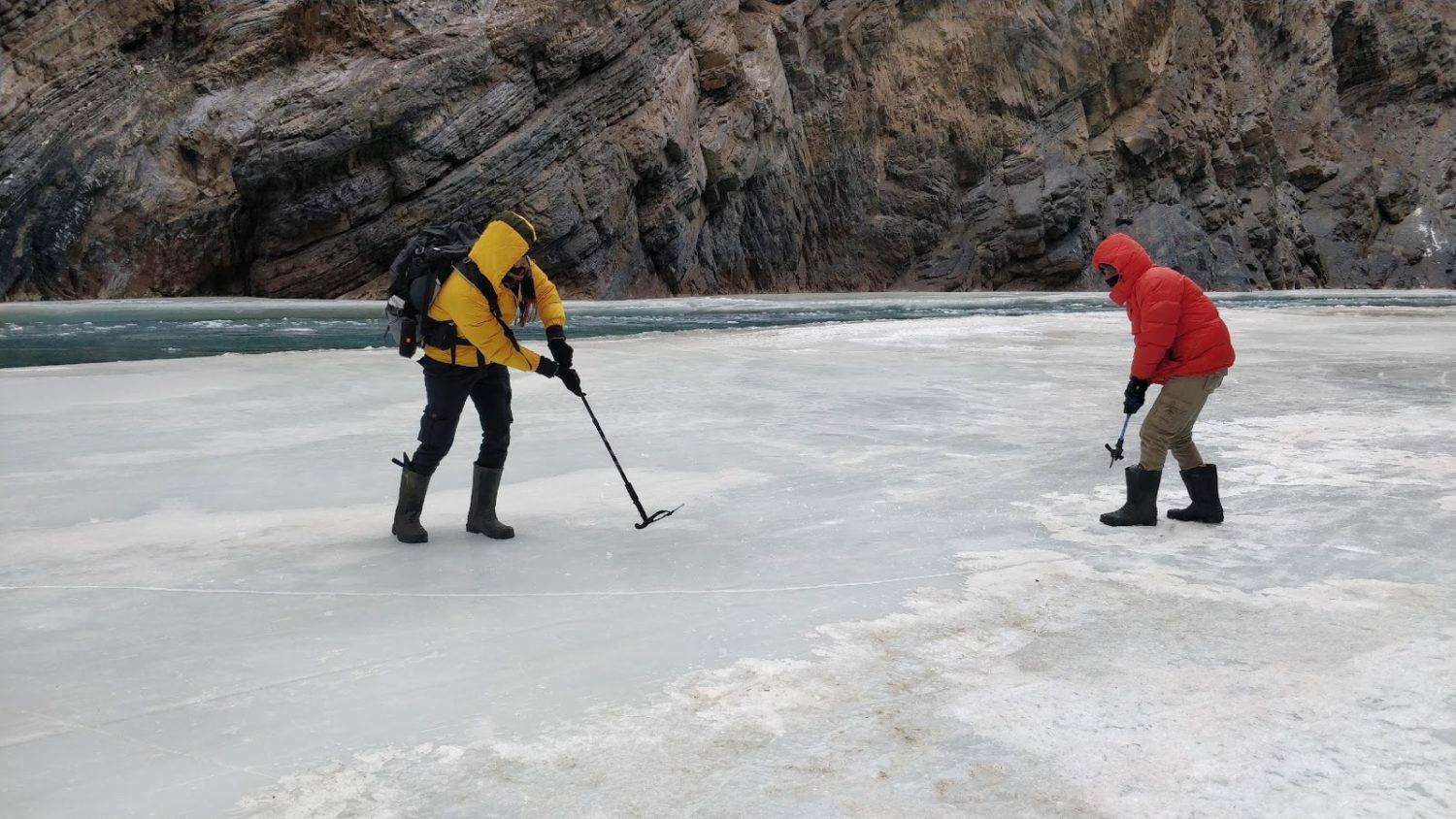 Day 2 started with a peaceful and serene morning, as they explored their inner peace in the divine, Shanti Stupa. It is said that when adventure kicks in, all the basic five senses of the human body take a backseat, little did he know that this will be the case for him too for the next few days. Starting their journey from the scenic drive of Tilad Do via Chilling, the group was excited to be on this trip with each other. Finally they arrived at the campsite for Tilad Do, where Vijay encountered his first step on ice, he says laughing, "we will never forget our funny little penguin walks. When we started, all of us were unable to stand on ice. We fell many times, until after some practice in the end we were able to walk on ice."
A ritual was followed as the days went by trekking through the tough terrains of Shingra Komi, Tibb Cave and Nerak. And rituals are not meant to be broken, hence, the whole group shared slippery walks on ice, daring stunt of finding the snow leopard, cheerful waving from local Zanskari folks, and their favorite, capturing beautiful moments on cameras. With passing days, their relationship grew stronger with the icy soil and the cold weather.
Vijay recalls, "in the start we were all very tense as we had never felt a sub-zero weather before, but as we were headed back home after the trip, we started to miss the clear sky and starry nights."
Shiny Nights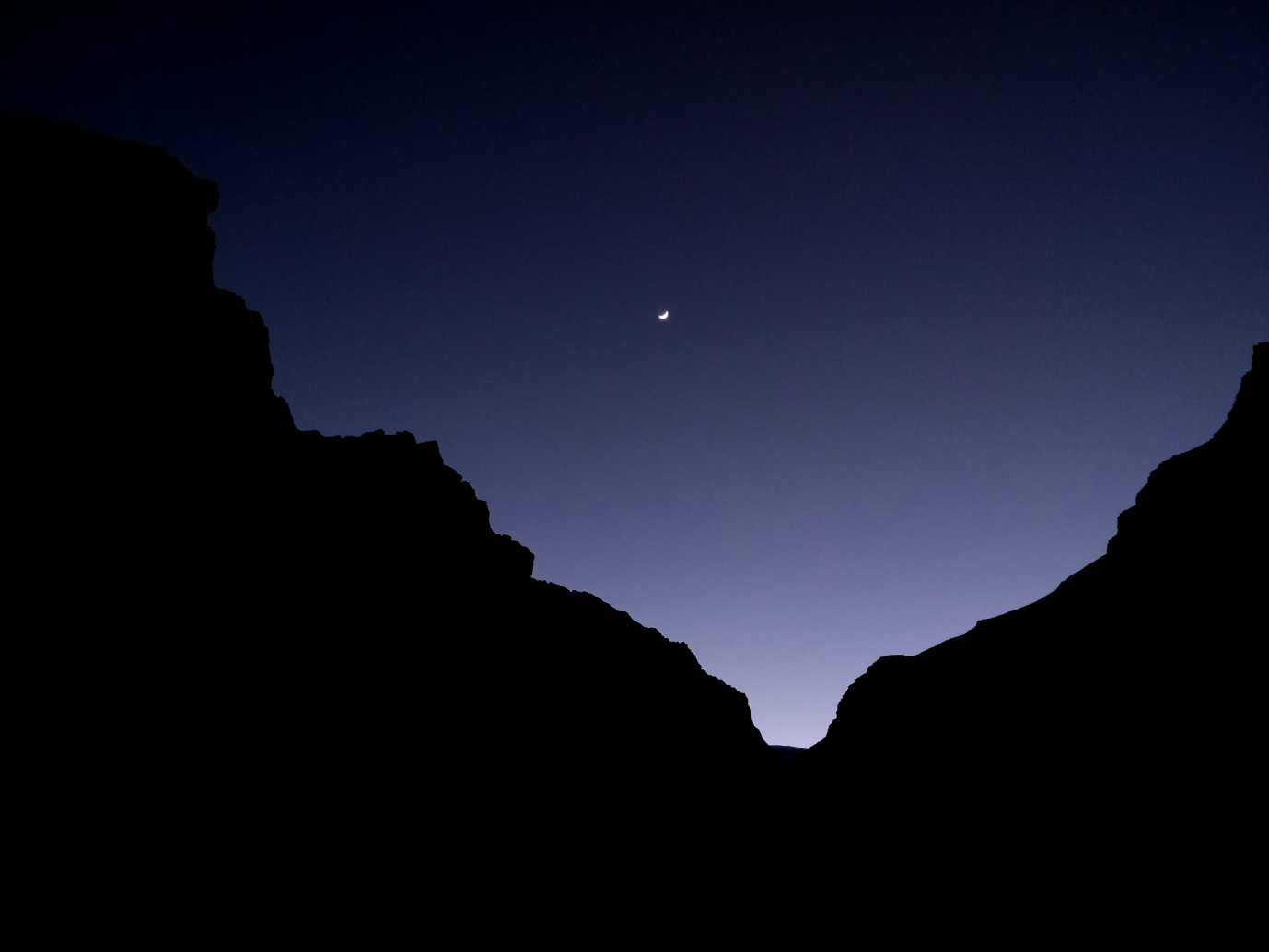 While their days were occupied by traveling from one campsite to another, the nights were rather mesmerizing too. The warm bonfire lit under a blanket of shiny stars, created a comfortable atmosphere for the group to share stories about their life. These intimate nights spent in the beautiful Zanskar valley, made their bond more strong and interactive. But with the untouched nature's lap came chilly winds, which made them shiver inside their bones.
The highlight of their stay was when dawn welcomed them, as the sky changed its colors, waving its way down through the crystal ice spikes, calling them from faraway. Frozen waterfall of Narek was another major highlight of their trip, as Vinay mentioned in his post conversations with us.
He mentioned that his daring trip to Chadar trek boosted his enthusiasm at a level where he is already looking forward to his next trekking adventure.
Some Advice on Chadar Trek by Vijay
Chadar trek is not a cakewalk, one needs to be fully prepared, both physically and mentally. We appreciate Vijay's commendable mental strength and his calculative methods, which helped in achieving a smooth trek. Below are some steps that Vijay followed-
Information is very necessary, before starting your trip, know every detail about all the spots and routes.
Be mentally prepared, as this trip offers you with harsh winds, extreme weather, and basic vegetarian food (if you are non vegetarian).
Dress up in layers, including jacket and a waterproof wind sheeter set, with a fleece lining, and thermal underpants.
Woolen Clap, Gumboots, and Gloves are a must to carry.
Carry your prescribed medicines with you all the time, keep them handy and in stock.
Carry extra SD cards and batteries for your electronics, and try to keep them warm.
Vinay was kind enough to provide Thrillophilia with some useful suggestions, which were looked into by our team, so that you can experience a perfect trip which can be cherished for life.