Republic Day Celebration at Chadar Trek- A Thrilling Saga of Treena!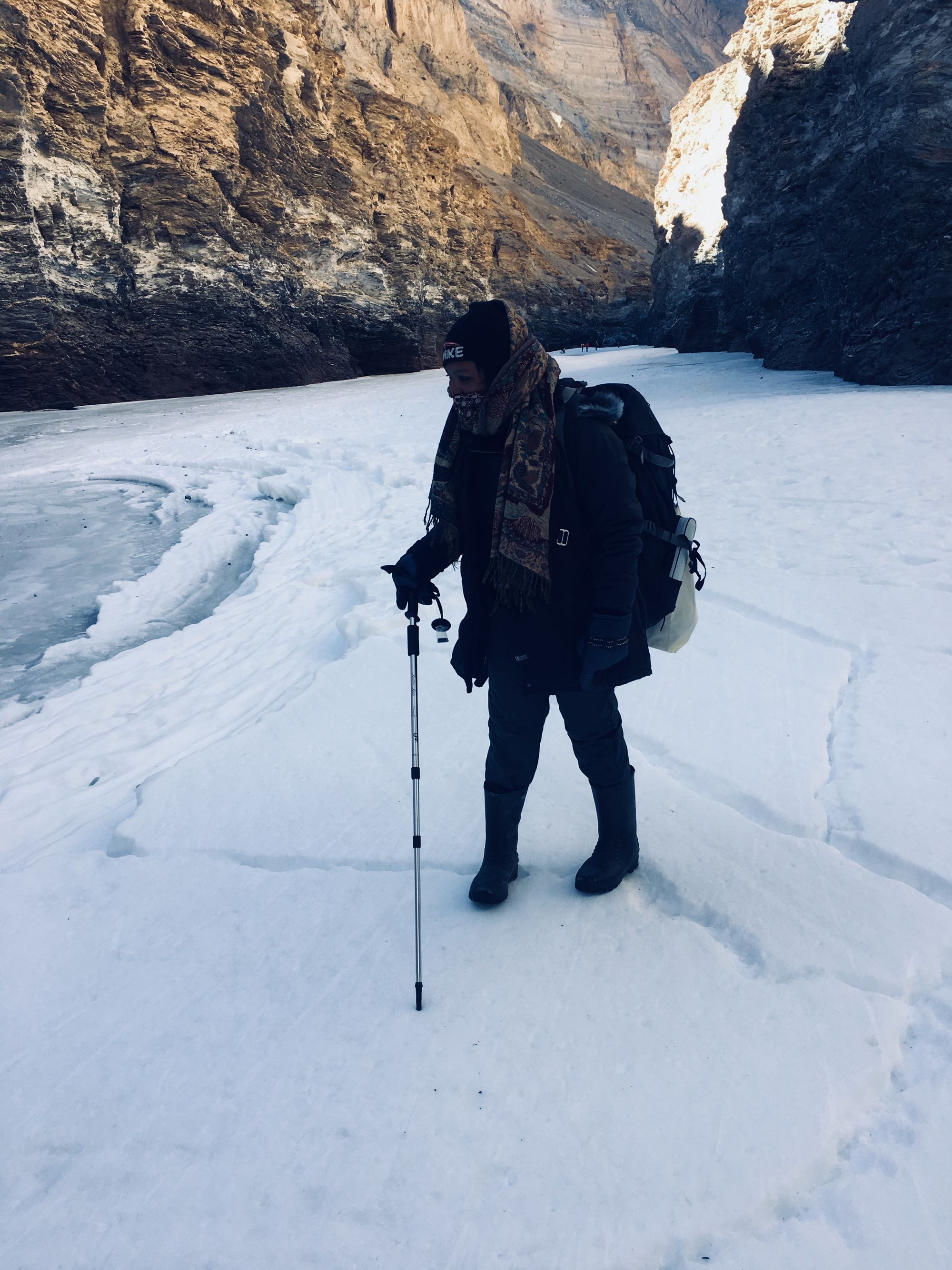 "The world is a book, and those who do not travel read only one page." Saint Augustine
To you, the above line certainly sounds clichéd.
Have you ever wondered why?
Throughout our lives, we have only thought about that dream vacation. The same one about which we often say,
"One day, boss, one day". Time passes, and we keep pushing one day into another, and another; and most of us just blindly fall into the monotonous trap of daily life, never realizing it.
This is Treena's Travelog. Indeed, she does not adhere to the concept of one day!
The One who Forayed into the Chadar
In this world there are those who say yes, those who say no, and those who say later. Discover Treena, a woman who follows her heart whenever she sets out on a journey, regardless of the destination. A talented artist from Ahmedabad, Treena enjoys traveling, dancing, and the mountains.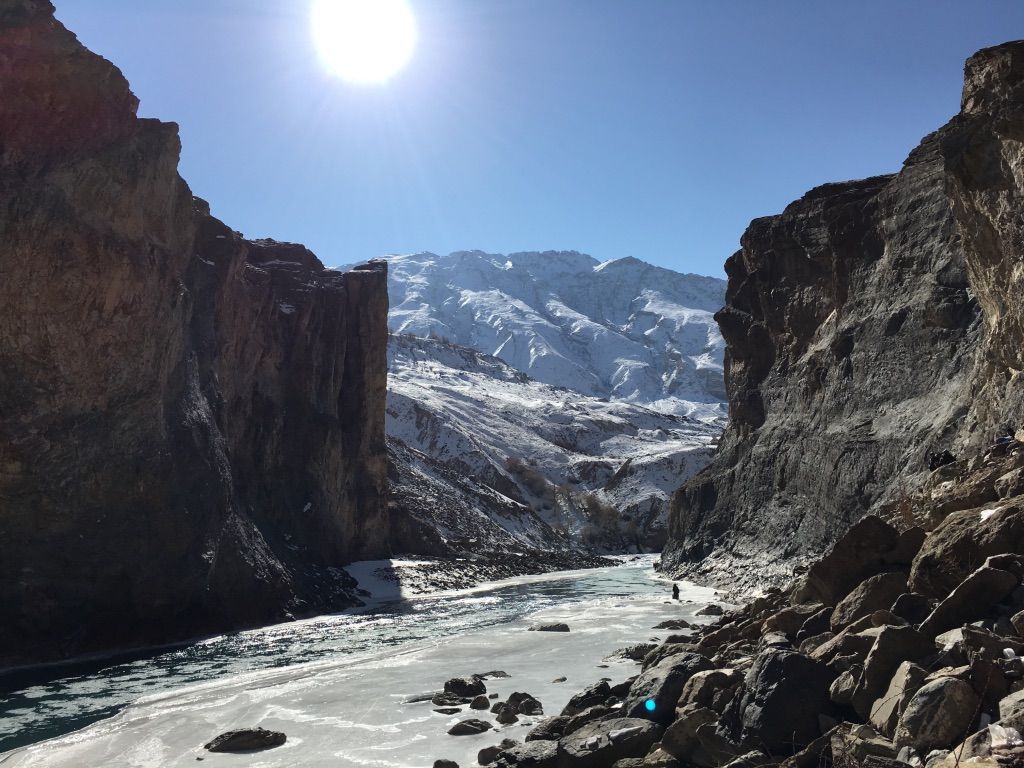 Having successfully completed the Chandrakhani Pass Trek, she knew Chadar would follow soon. It was not an easy decision, but one well worth making. This woman has already begun planning the Everest Base Camp Trek sometime next year, so we are not surprised. She's got a thing for mountains!
Carefully Planning Chadar
Her family that she made during her solo trek up the Chadar Mountains!
Treena, despite being a yes-woman herself, believes it is worthwhile to spend time carefully planning a trip that involves challenges that a normal human body is not suited for. Chadar Trek is not a kid's game - as we have learned from our experience and Thrillophilia's detailed feedback, it is more of a mental challenge than a physical one.
Treena has been thinking about Chadar ever since she discovered Himalayan Trekking. For the purpose of ensuring a successful and stress-free Chadar Trek, she conducted extensive research on the internet.
As a result of meticulous preparation of her mind and body, she opted to book the Chadar Trek with Thrillophilia. According to her, "It was a dream for me to see all the heavenly beauty of Himalayas at Chadar".
The New-Found Familia at the Frozen River Trail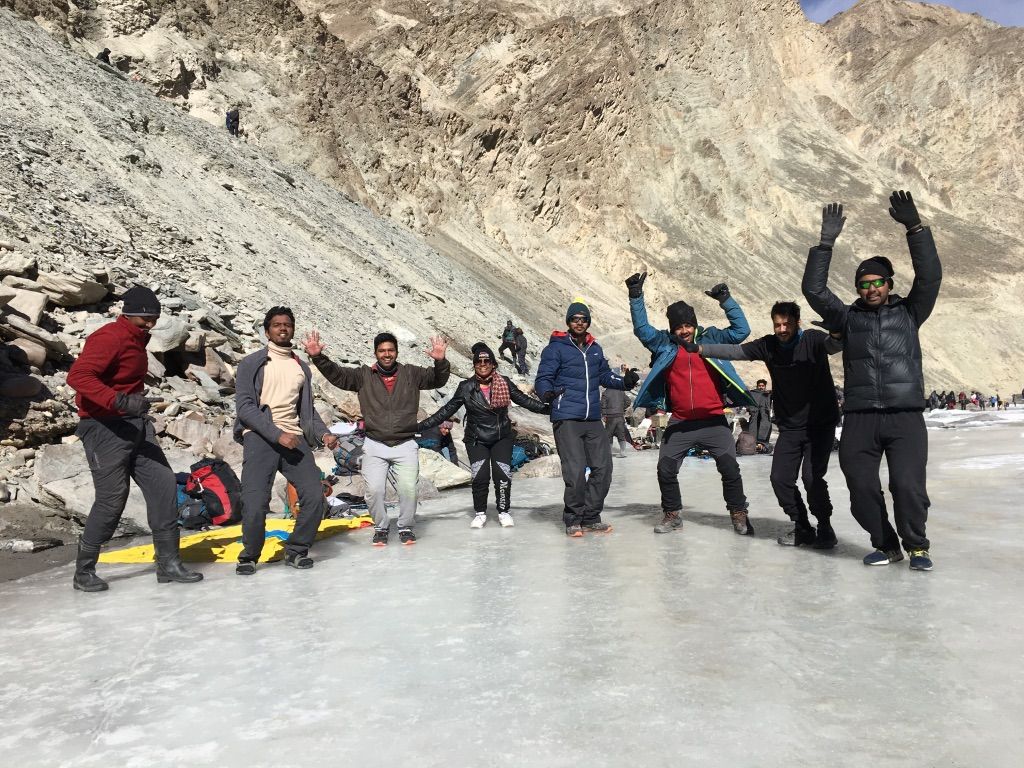 Making new friends is one of the most beautiful aspects of traveling alone. It does not originate from Yeh Jawani Hai Diwani, Into the Wild, or any other travel movie you might remember. Solo sojourners tell us this often. In this particular instance, Treena recounts her experience of finding a new family on the Chadar's frozen sheets thousands of miles away from her own residence.
As she puts it, "They were very friendly. We were family since day 1. On the last day of the trek, we were really emotional about leaving Leh and going back to our residential cities".
The Chilling Winds of Chadar – The Final Itinerary
In the winter morning of 20th January 2018, Treena took that flight to which she had subconsciously yearned for months, if not years. When you fly to Ladakh, you will have the opportunity to explore a hidden gem that India has held for centuries. Upon entering Ladakh, one must spend a day in Leh to adjust to the altitude. In an area where temperature and oxygen levels are low, it is vital that a foreign body rest upon arrival. The body will then be able to adjust to the change in altitude and temperature. Treena was escorted to her hotel room immediately upon landing, which thrilled her immensely.
From Chilling, the Chadar Trek's itinerary takes you through Tilad Do, Shingra Koma, Gyalpo and Tibb Caves until Nerak. Here is her unconventional experience of walking through sheets of ice, which of course kept changing its appearance every day.
Chilling through Chilling
Chadar evokes images of covering an expansive trail through a frozen river in six consecutive days, averaging 15 kilometers per day. Then there are the freezing temperatures below zero degrees, low oxygen levels, low pressure, and, not least of all, the fall into a frigid river beneath cracked ice. She remarks, "The experience of doing it was something different which can't be shared in these few lines and photographs…you have to be out there to know what Chadar is all about."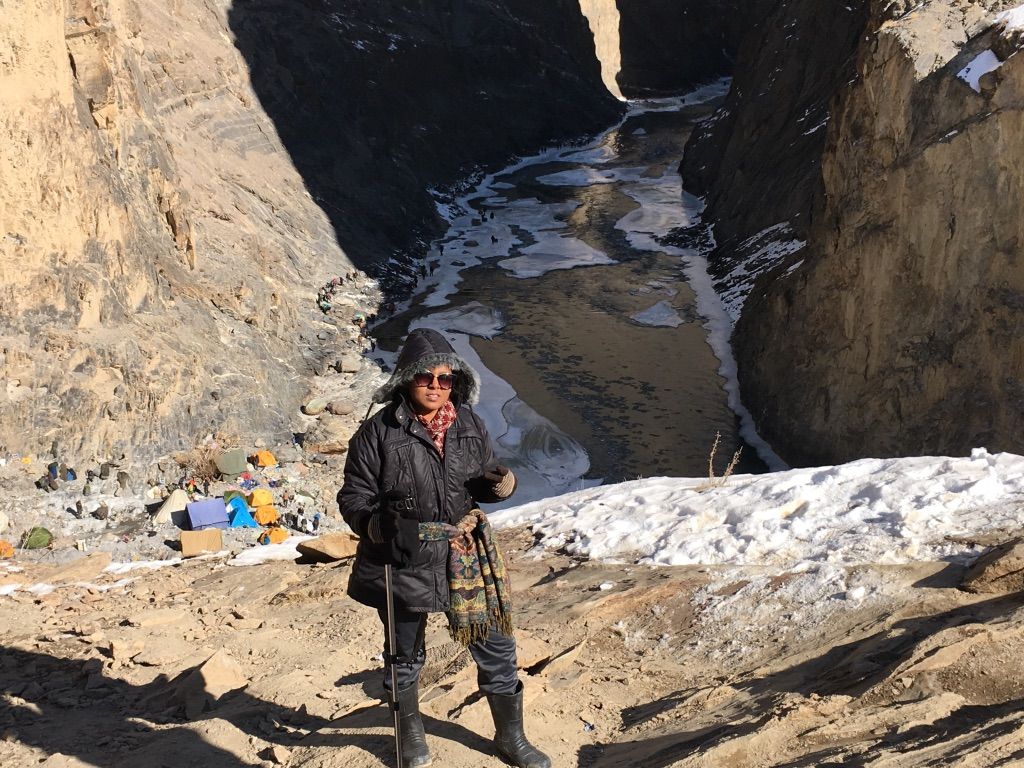 This journey started at Tilad Do after passing through Chilling, however the real thrill came when the expedition crew took their first step on the frozen Zanskar River. One might ask, "How can one even walk on water?". In the Hollywood film Bruce Almighty, Morgan Freeman and Jim Carrey did exactly that. Nevertheless, this family was doing the unthinkable - walking on a frozen river.
The excitement in Treena's voice is palpable as she says "The first view of Chadar will leave you spellbound, even photographs will not be able to justify its beauty."
After seeing her joy on Chadar, we understand why she would be excited. After camping at Tilad Do for the first night; Gyalpo for the second night; Tibb, Nerak and in reverse order back to Leh. "The camping nights were a different experience altogether" expresses Treena!\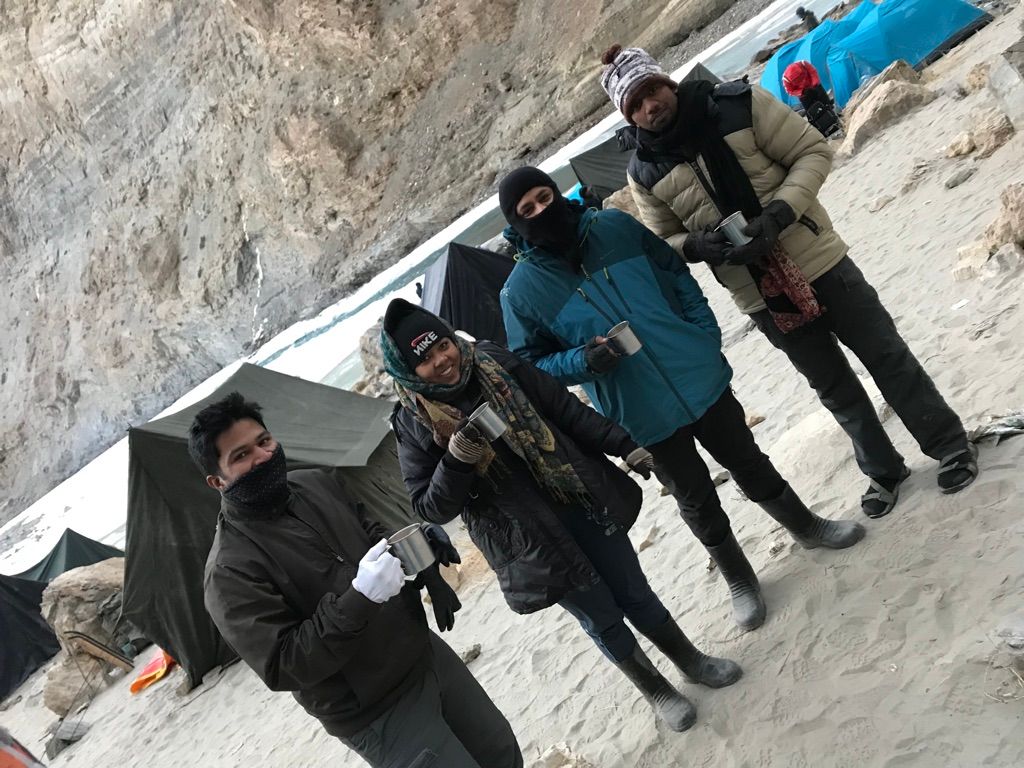 The Look at the Milky Way
"At night you can find a spectacular view of the Milky way. The sky remained full of stars, millions of stars. But then, in the midway it actually tests your patience to its peak! Motivating yourself every morning to get up and do the same thing again and again, with all the challenges mentioned above was very depressing and the only thing you could see around yourself for motivation was the blue river, the white ice and the amber coloured mighty Himalayas…nothing else!!"
The above words were stated by Treena when we asked her about the time from when they were snug in double-layered sleeping bags to when the cruelly captivating morning light woke them to begin getting ready to leave for Nerak Falls, the final stop on their Chadar itinerary prior to re-entering civilization.
The nights at Chadar really meant resting your bones and muscles and resigning yourself to the next morning, which brought about the excitement of crossing the Valley of Blue River, white ice, and amber skies.
Republic Day at Nerak Falls
It was on the 25th of January, 2018 that the group arrived at its final destination, the Nerak Falls. The following day, the group hoisted the National Flag at Nerak Falls as part of the Republic Day celebrations. The group was overwhelmed with a sense of joy, freedom, and warmth, and what unified them was their patriotism.
In fact, the fears they had regarding crossing the frozen river were vanquished. The Chadar trek had been accomplished.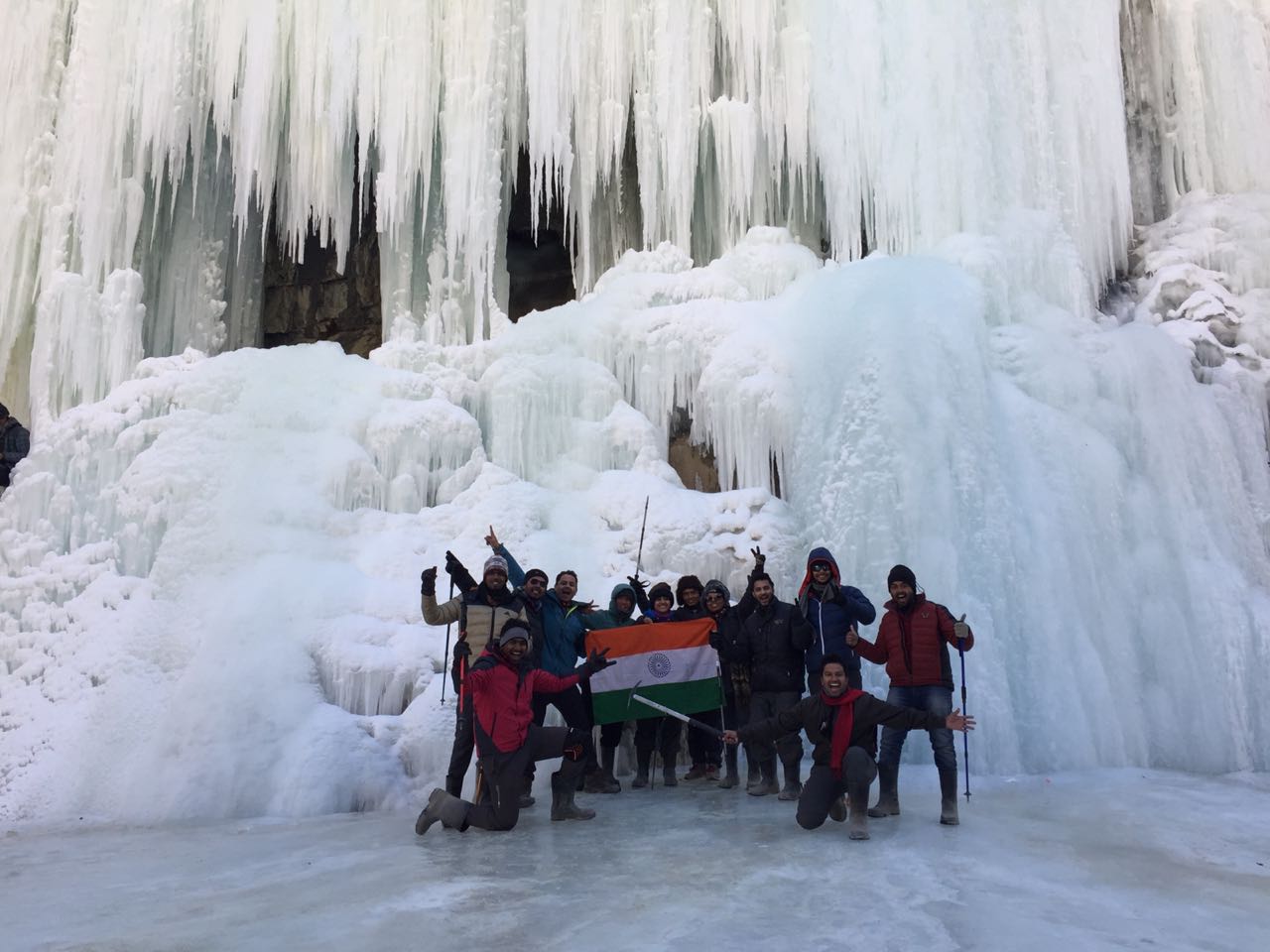 Tips By Treena!
Our post-trek discussion with Treena included an inquiry about her most memorable moments on the trek. She mentioned a cheerful cook. He would ask about their health and their meal, and then casually mention how the Chadar would break the next day, causing water to rise to the level of their shoulders. Aside from cooking, the cook had a number of other skills up his sleeves.
The following recommendations were provided by Treena to anyone considering the Chadar Trek next year. Listed below are her suggestions.
Beginners Guide to Chadar Trek
Learn about the extreme temperature range and be mentally prepared, as well as physically protected by wearing multiple layers of clothing.

Before beginning the Chadar Trek, obtain a medical certificate from a physician

Infrastructure for data and network access in Jammu and Kashmir

Treatments for stinging injuries

Batteries in electronic devices such as mobile phones and digital cameras

The availability of food during the winter months in Ladakh

Exercises that are necessary to prepare your body for the Chadar Trek

Last but not least, a bit of the Ladakhi language.