Priyesh's Snowfall Experience at Kuari Pass Trek with Thrillophilia

"I'm a Financial Consultant by profession and a mountain aficionado by heart" .
Priyesh opened up about himself while sharing his experience with Thrillophilia about the rewarding journey he went on to the Kuari pass. Astonishing campsites here offer a breathtaking view of Garhwal, and you are sure to be mesmerized by the scenic beauty that greets you along the way.
Kuari Pass Trek: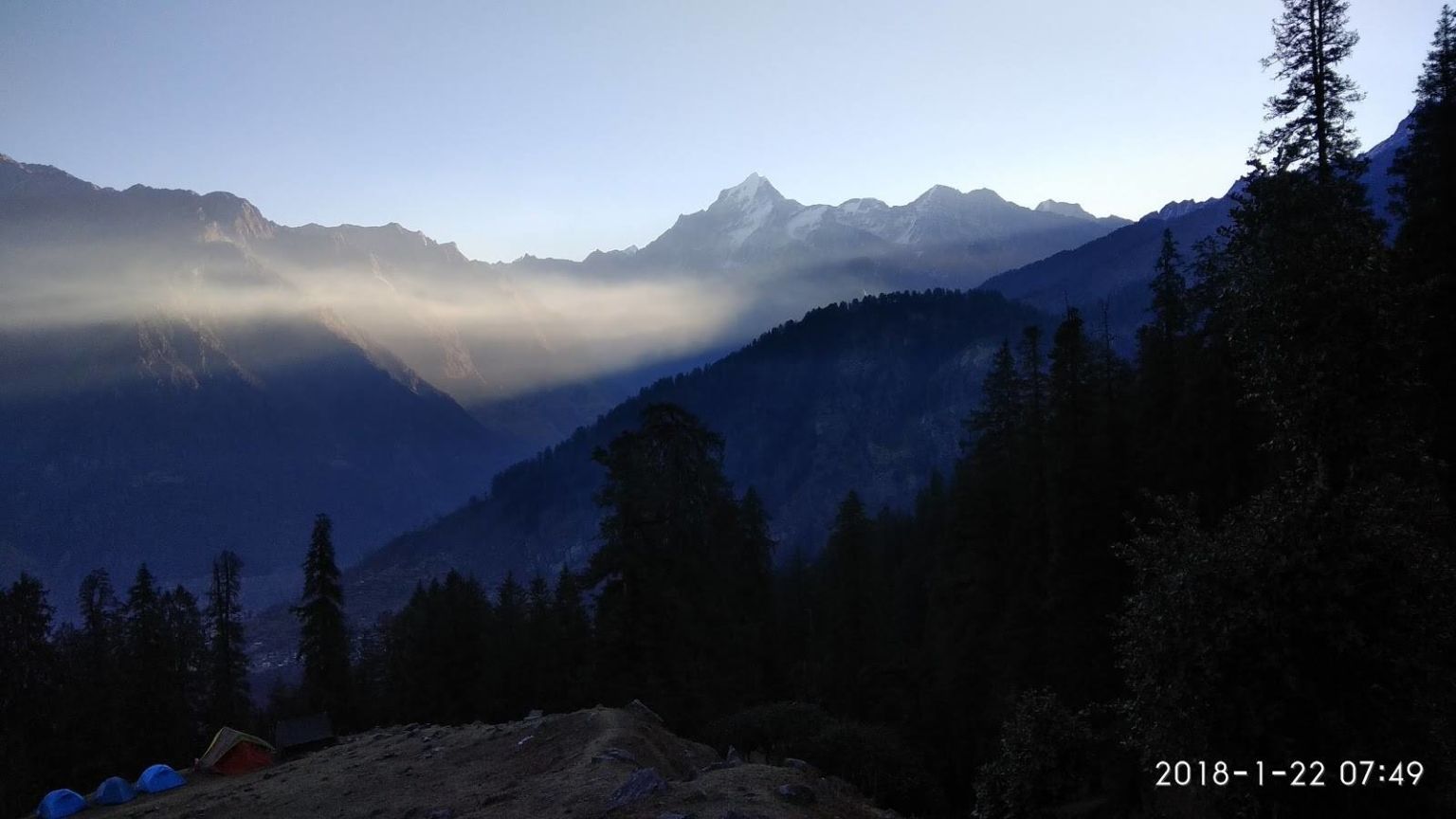 There's a distinct charm enveloping the Garhwal in the Himalayas that you will not find anywhere else. Kuari pass is a great trek for beginners and even intermediate trekkers, it takes you through the magnificent oak forest and transports you to a different peaceful dimension. You can witness the bewitching peaks such as Dronagiri, Neelkanth, Hathi Godha, Chaukambha along with others as you move forward in your expedition. This trek will keep you engaged throughout and you can even indulge in the thrill of adventure as you ski down an icy slope upon reaching Auli from your way back to Joshimath.
Priyesh commences his journey:
A group trek with Thrillophilia offered the best experience for Priyesh where he was accompanied by 3 Engineers and 2 Chartered Accountants. Divya, Harshil, Chirag Gaurang and Pruthvish were all Priyesh's perfect match for this bewildering trek in Garhwal. This trek initiated momentous bonds with his fellow travelers.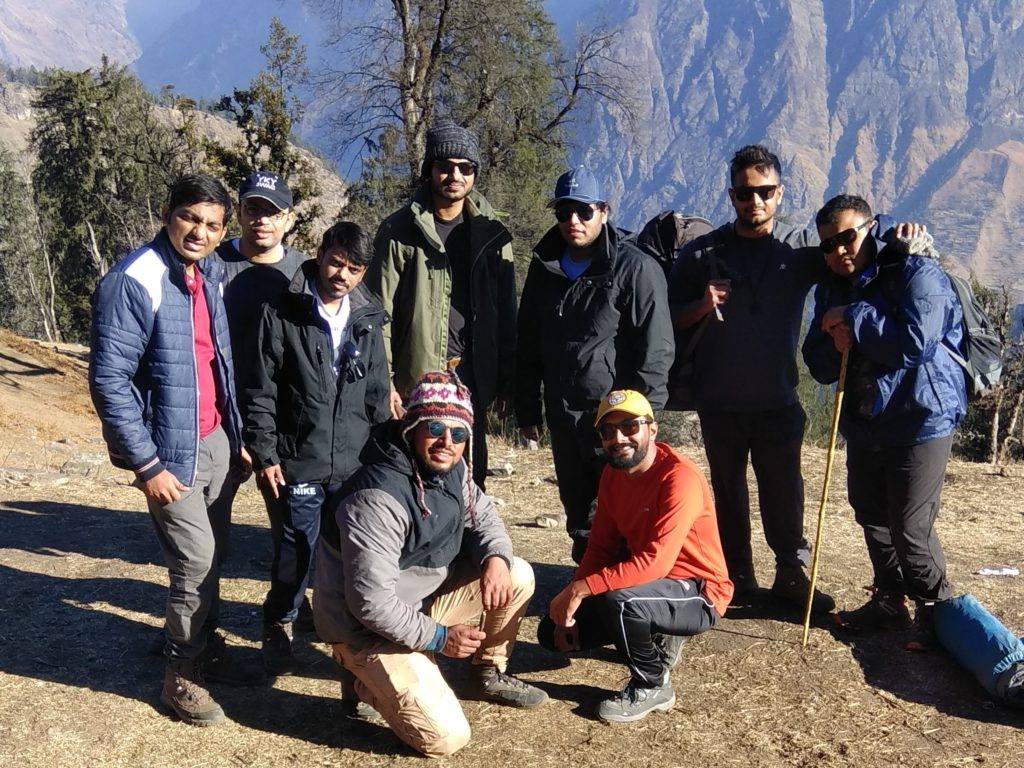 "Passing on ghost stories after dinner, falling on snow while descending and taking the trip of a lifetime; it was a memorable feat"
Day 0:
"I traveled from Mumbai to Delhi and to Haridwar, eager to reach the astonishing Kuari pass. I was totally exhausted as I set foot in Haridwar around 9 PM. Crisp winds and chilly weather of the city was the signal for the beginning of my amazing trip."
Day 1:
" It was a struggle to get out of bed at 5:30 am in the morning in the freezing climate. We all got ready for the day ahead and reached the Haridwar station to meet our driver Mr. Bhagwan who was already there waiting for us. We were literally Bhagwan Bharose to reach the destination".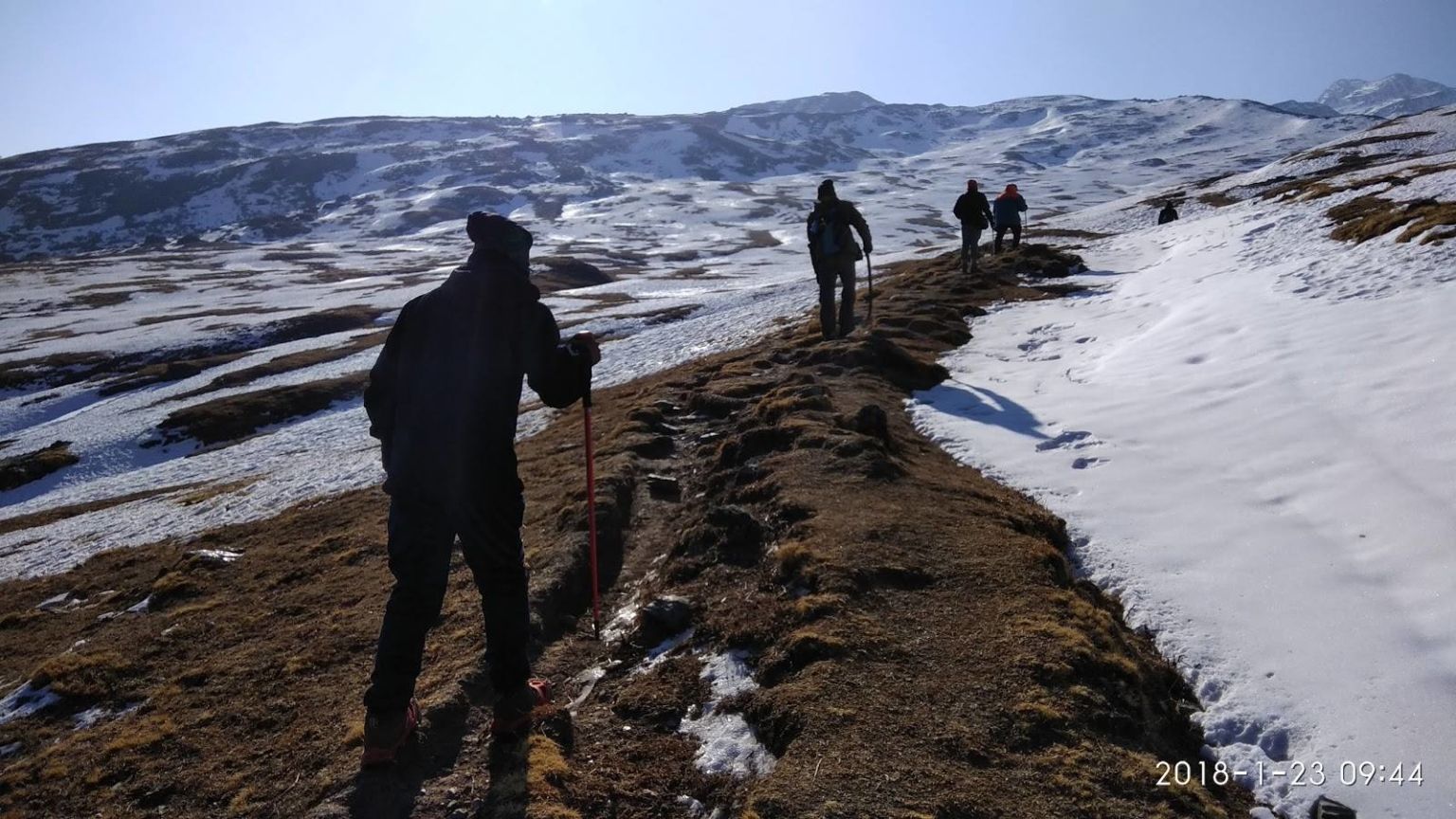 "Our road trip to Joshimath was fun, all six of us were chatting and enjoying the ride to the fullest. Sharp bends of the road ensured the ride was spiking the excitement levels of everyone seated in the car. By 5 pm we reached Joshimath, and were greeted by our trek leader after we freshened up in our respective hotel rooms."
Day 2:
"A group photo was called for in order to embark on our trip to have a clear memory of this beautiful day. Afterwards, all of us got our backpacks on and started trekking to Dhak village."
"As we went on walking for a while we reached Kharchi village which was the last checkpoint to fill clean drinkable water in our water bottles. While enjoying our packed lunches to fuel up we chatted for a while and took a break to admire the beauty around us."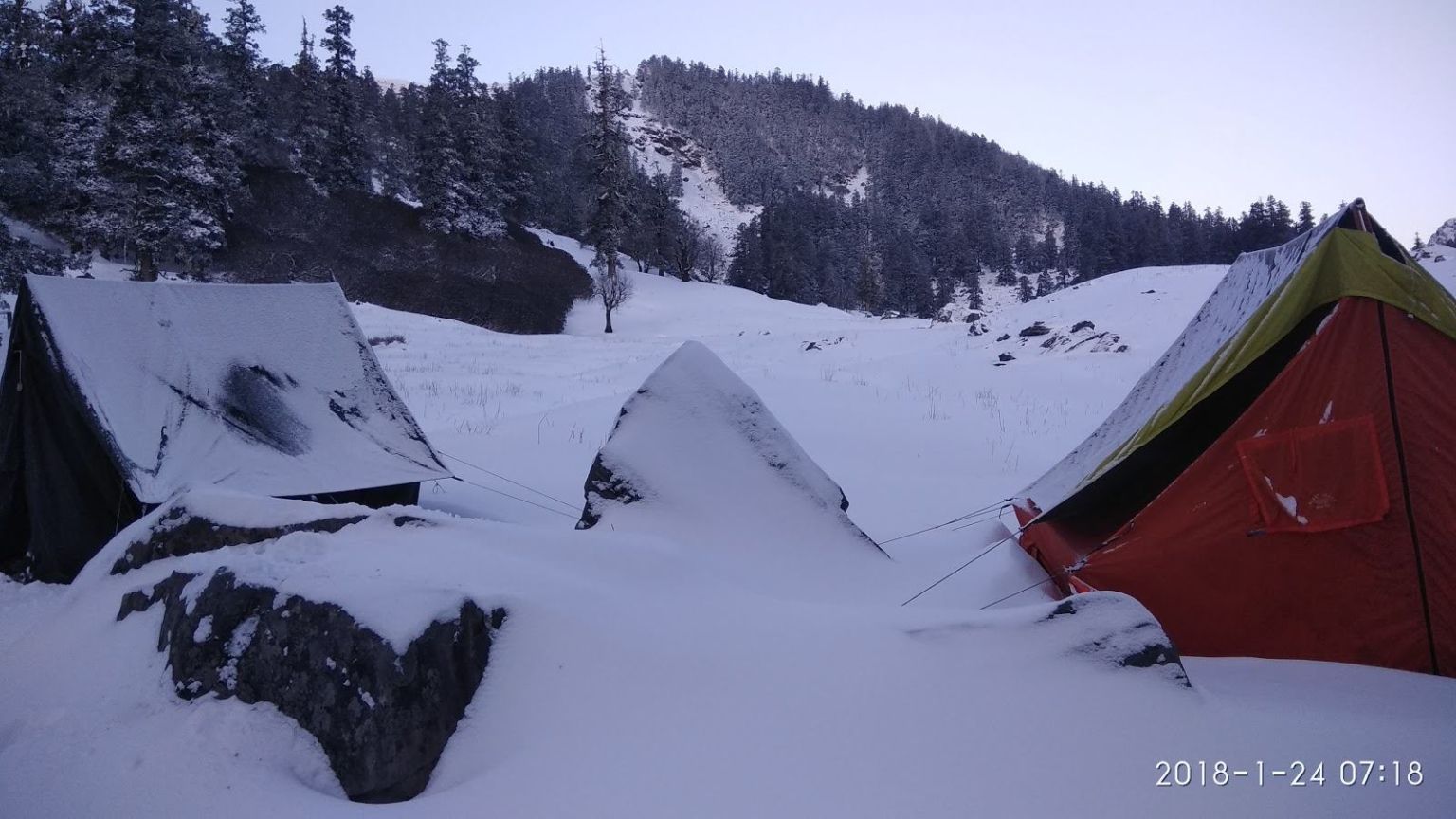 "After walking for some time we reached our first campsite around 4pm, the 'Walnut Tree campsite/Gulling Top'. The view here was surreal, compelling us to capture moments together along with an admirable sight of the famous 'Hathi Godha' and 'Dronagiri' peaks. Immersed in the natural beauty around us we sipped hot corn soup with ginger to keep us warm as we were enclosed by the majestic mountains."
"We played Uno cards and threw frisbees while sharing stories of our past travel experiences with each other. Post dinner around 8:30 PM we resigned to our tents where we tried to appreciate the uncanny bumps of earth beneath us while resting in our sleeping bags."
Day 3:
"We were up by 7 am all set and ready to start the trek. As we started on the steep trail, we realized this was a bit more difficult than the previous day but the breath-taking view of the mountains and the welcoming oak forest we were passing through made all the exertion worthwhile."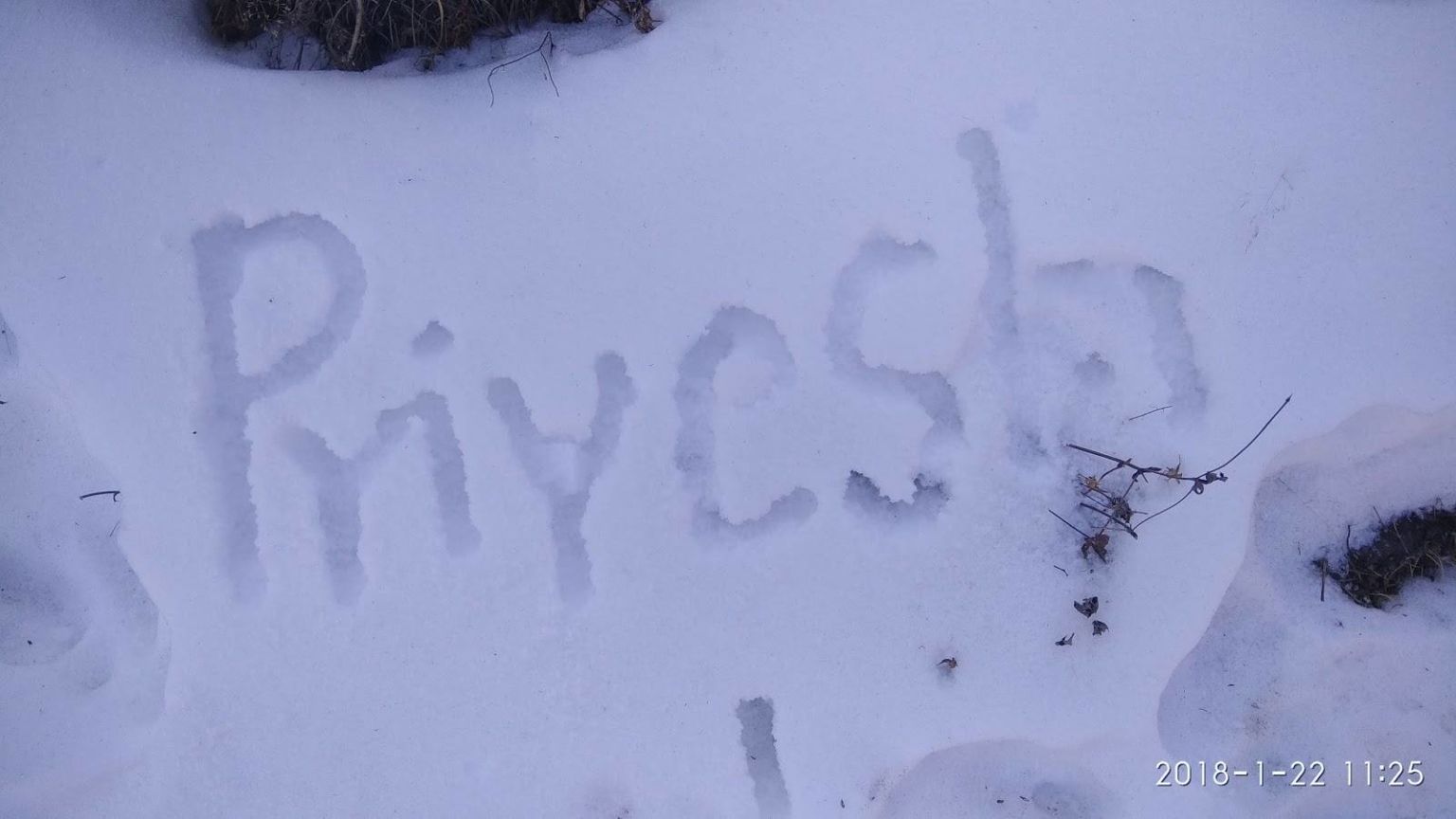 "I was content walking on the small snow specks as this was my first time encountering snow for real, on our way to Khullara, which we reached around 1pm. Later in the evening, we got to know about the historic importance of surrounding peaks and freely explored the area. We enjoyed our dinner, exchanging significant life stories and slept in the comfortable tents as it dropped several degrees outside."
Day 4:
"Refreshing tea and a nourishing breakfast in the morning got us ready for the exciting day ahead. We got our bags ready and headed to the Kuari pass. It was a joy to walk on the snow, our Trek Lead gave us Crampons in the beginning which made the whole experience more enjoyable.".
"Everything was covered in snow, we progressed along the trail taking micro breaks every 15-20 minutes or so. I was lucky enough to walk on water, as we crossed a frozen river, the whole experience was enthralling. We used ropes and an axe to navigate through the river with the help of our team lead. Strong winds and an awe-inspiring view greeted us on reaching the top of Kuari Pass."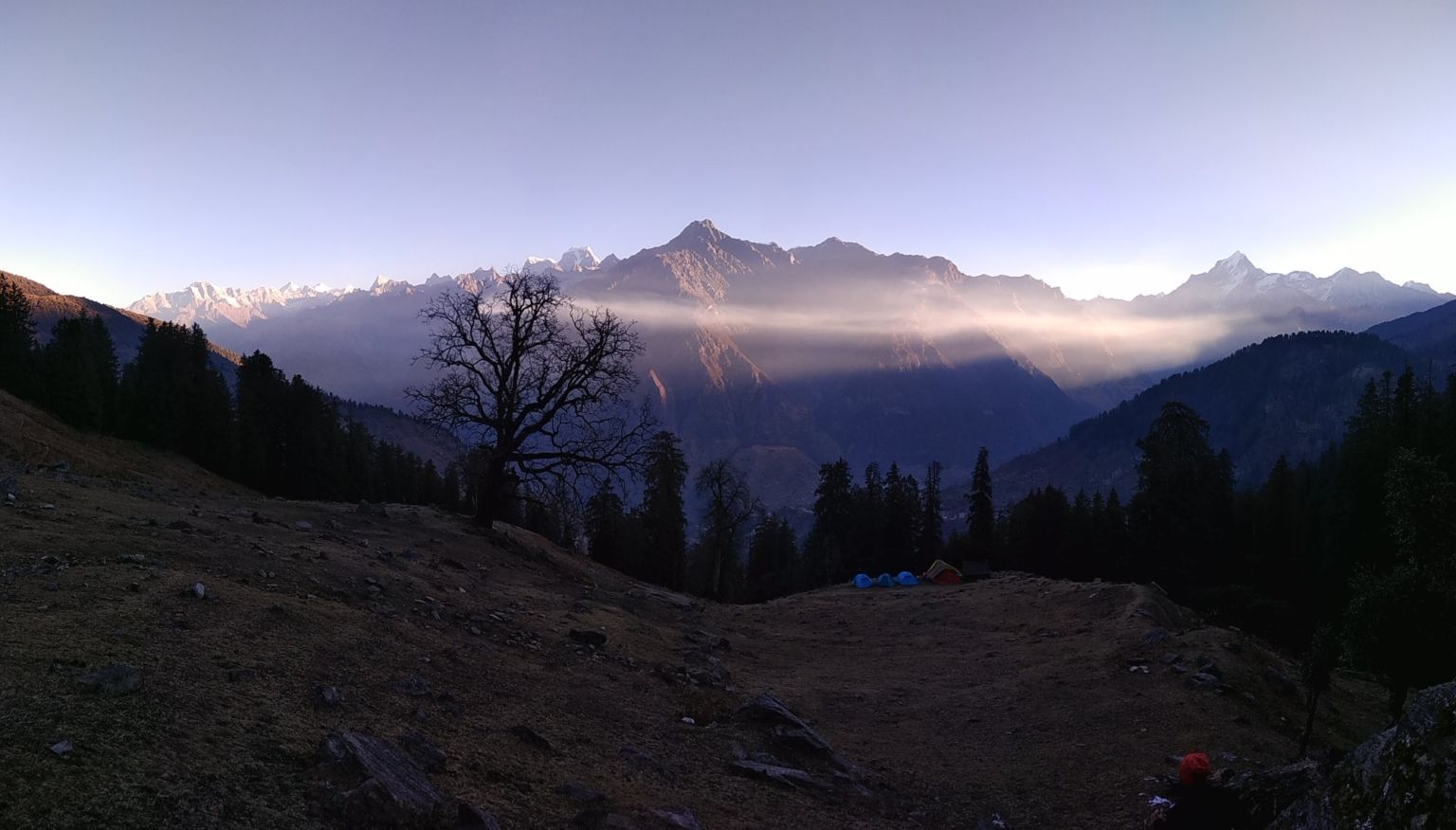 "Far away from the hustle and bustle of city life we relished in the serene environment experiencing true calm, later we captured the enticing view around us."
"We greeted another group and engaged in small talk with people setting up their tents, on our way down towards our campsite. As we sat down for dinner reminiscing over the stunning view at the top we felt the magic, as it started snowing."
"The intense fall left everything around us covered in deep snow, preventing us from sleeping that night as we saw the helpers working their backs to clear the snow from our tents. Even our cook was quite helpful in ensuring the successful removal of snow."
Day 5:
Everything was covered with a thick layer of snow the next morning. Hence, we were instructed to leave early in order to reach Joshimath on time. With our bags ready we quickly had our breakfast and tea and hit the road by 7 am. Auli, the skiing capital of India would be the next stop but because of the weather we took the same route back. Taking careful steps and moving forward alongside others we successfully reached Dhak village by 4 PM. Later we said our goodbyes to the amazing crew of helpers and our Trek leader."
Day 6:
"A pickup car was outside the hotel waiting for us as we took our luggage after completing breakfast and left for Haridwar around 7 AM".
Priyeush is a person who has gone to around 20 treks in his lifetime, hence, mountains, water, and other natural objects are his one true love.
Almost all of the travelers who go on a group tour for the first time share that it was truly a rewarding journey, and Priyesh was no different!
Explore the unexplored with Thrillophilia, as you embrace the togetherness of your travel group.