Let's Relive Krishna's Chadar Trek With Thrillophilia!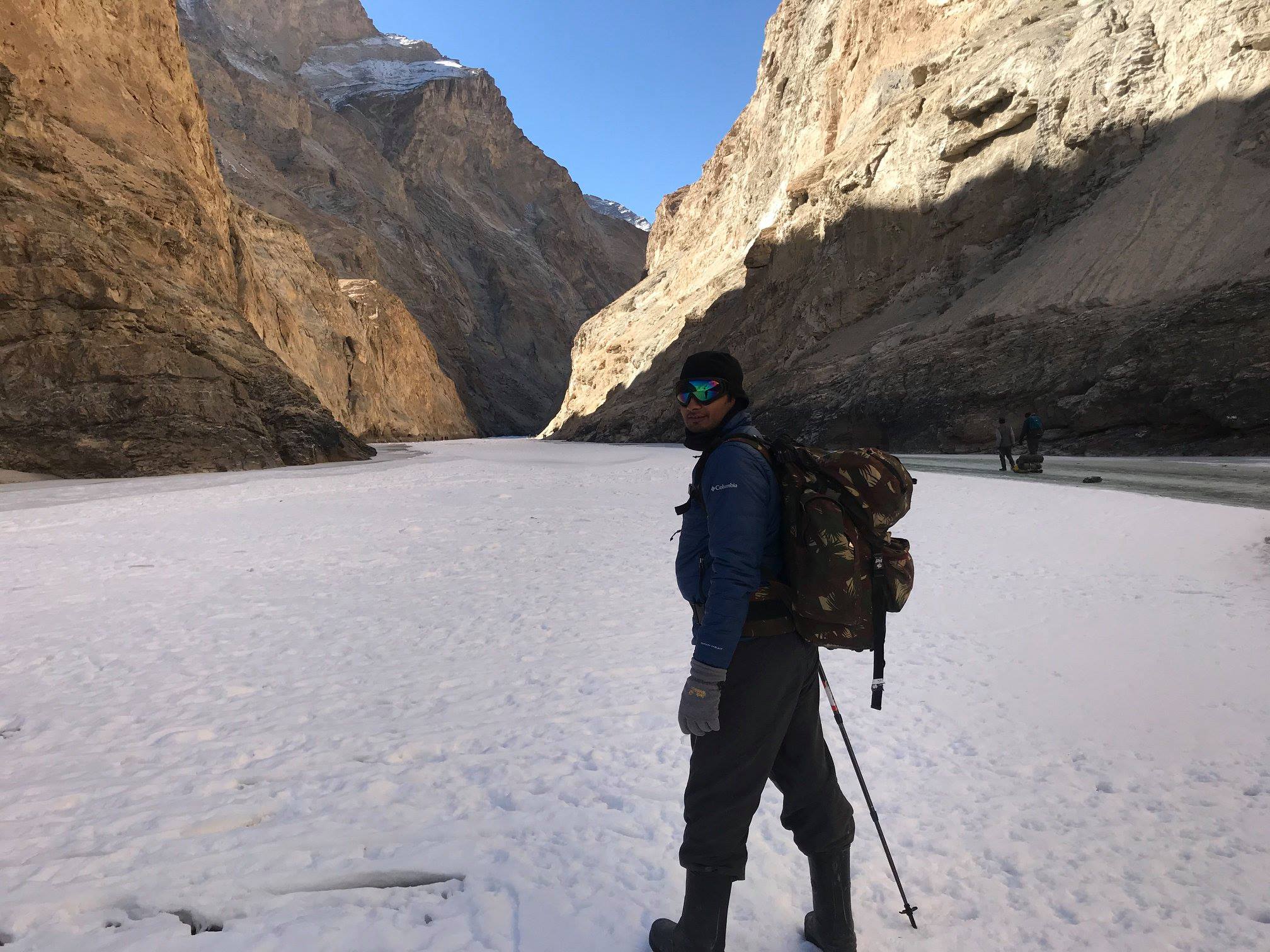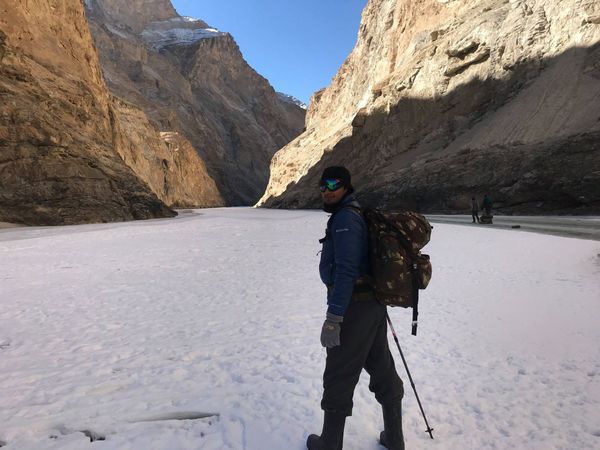 "The infamous Chadar Trek is among the most challenging treks in India. It is a trek I could not miss!"
Freelance product designer Krishna Deepak Maniyar is raw, hungry, and a simple individual who enjoys exploring new possibilities. A passionate enthusiast for time, life, nature, automobiles, food, and adventure, Maniar has sailed the Arabian Sea, done deep diving in Costa Brava, skydived in Seville, hitchhiked through Europe, skied in Bardonecchia, biked across the country, and recently, summited the Chadar Trek.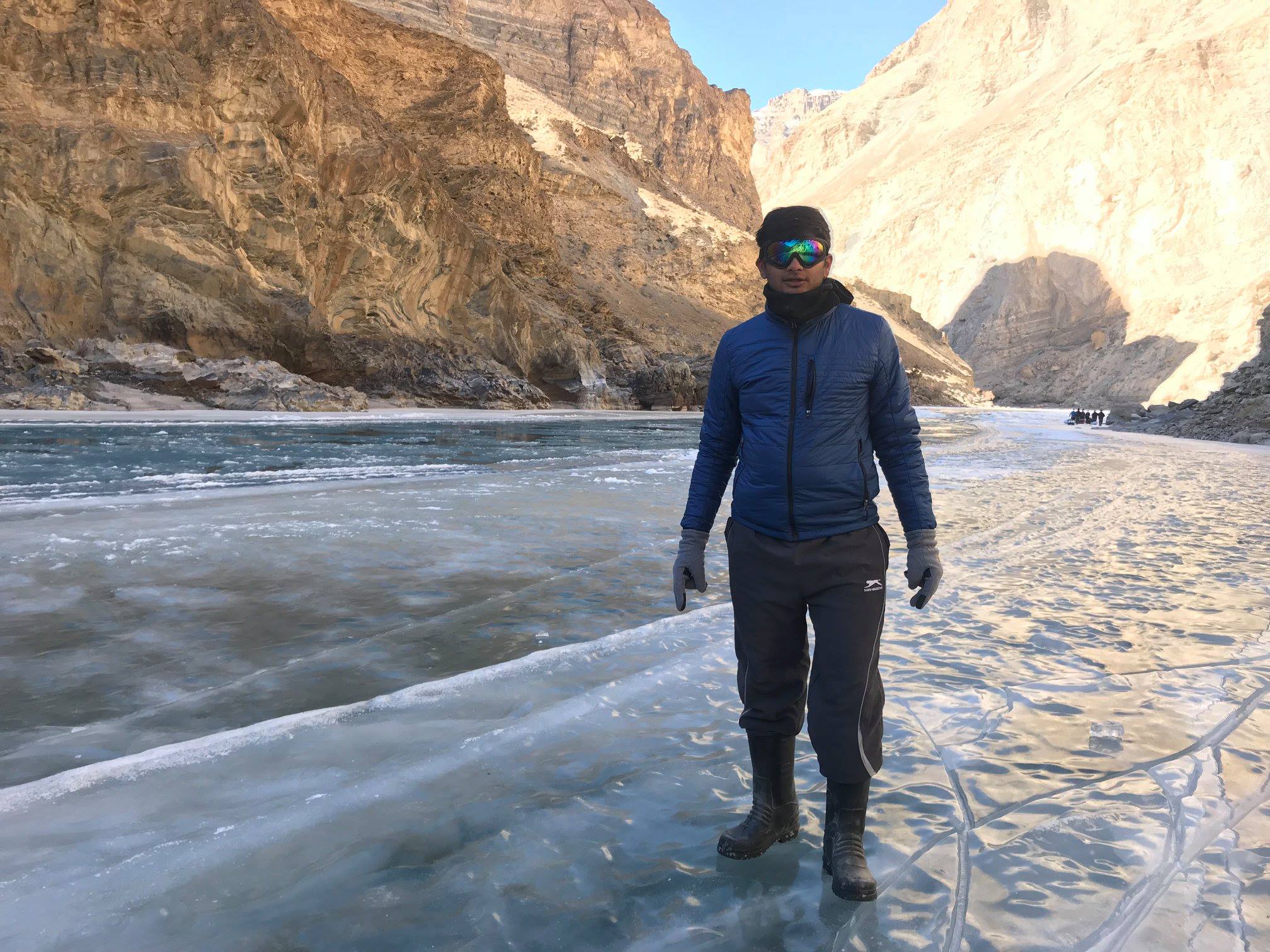 "The journey began with an email stating the details of Chadar Trek and asking the following question: Does it appear challenging enough? On the Internet, I found several videos of people falling through manhole-sized holes on frozen ice over rivers, crossing vertical cliffs, sliding through the ice without much room to sleep, showing off frost bites and shivering through their necks, but none of them stopped, none admitted defeat, everyone kept moving forward. Having a burning desire to experience this feeling, I signed up for the trek, paid the fee, and decided with some confidence that I would succeed in completing the Chadar Trek," says Krishna recalling the start of the epic journey.``
Journey Begins
Coming from the sunny beaches of Goa, where the temperature ranged from 22 degrees to -14 degrees in Leh, Krishna knew what lay ahead was not what he had ever imagined. Without a phone connection, Krishna arrived in Leh a day earlier than the others and was greeted by a man wearing a nameplate. He was picked up by a cab and taken to a guest house, where he was welcomed warmly.
The first day, prior to the actual beginning of the trip, he met members of the National Ice Hockey Team who were skating on the world's highest ice skating rink, he inspected Shanti Stupa, he ate local Tibetan cuisine, he watched Spituk Gustor Festival, and the next night he met the rest of the team, who were traveling to Tilad base camp, the following day.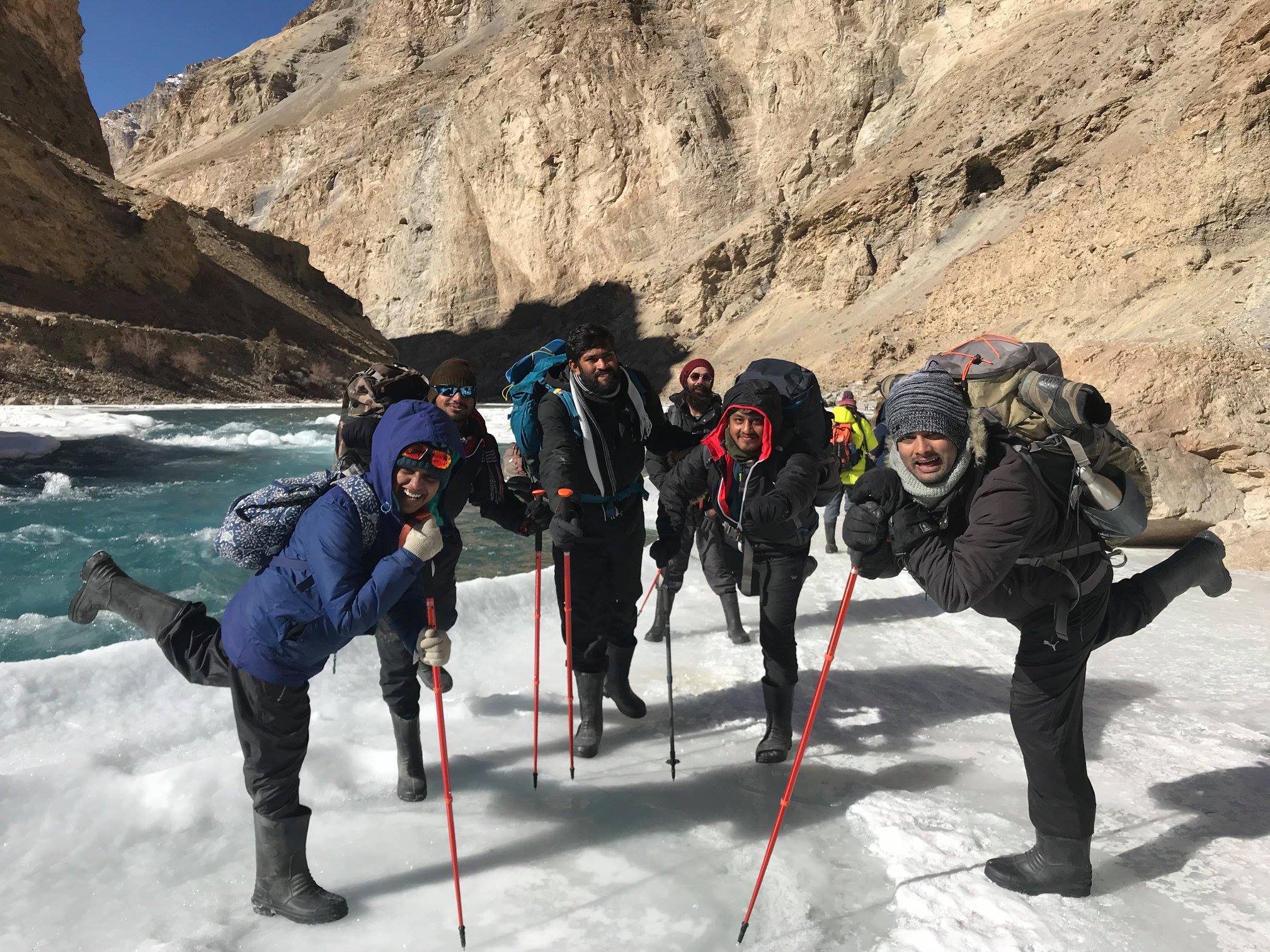 "We reached Tilad after enduring tons of dust and close calls on the stone cut road that runs parallel to the Zanskar River, '' Krishna says. "After traveling along the scenic road, we arrived at a beautiful camping site in the gorges of the Zanskar valley, where we spent the night. Over time, the sky slowly became dark purple, and then nothing was left but an endless display of stars as far and wide as one could see. I noticed that there was a light show above my head, shooting stars, and constellations that I had never seen before. I also felt numbness in my feet. After removing my shoes, I found that the sweat had turned into ice and changed into a new pair of shoes. While I was thinking about how many things I had not seen in my life, this was only my first day in Chadar. I had never encountered a cold night like this before."
In order to avoid slipping, the troupe began to walk on thin sheets of ice towards Thomu. Crystal clear water flowed parallel to the ice sheet, high rise mountains made from layers of sedimentary rocks could be seen everywhere, and the surrounding scenic beauty was captivating. This marked the first milestone of reaching Thomu.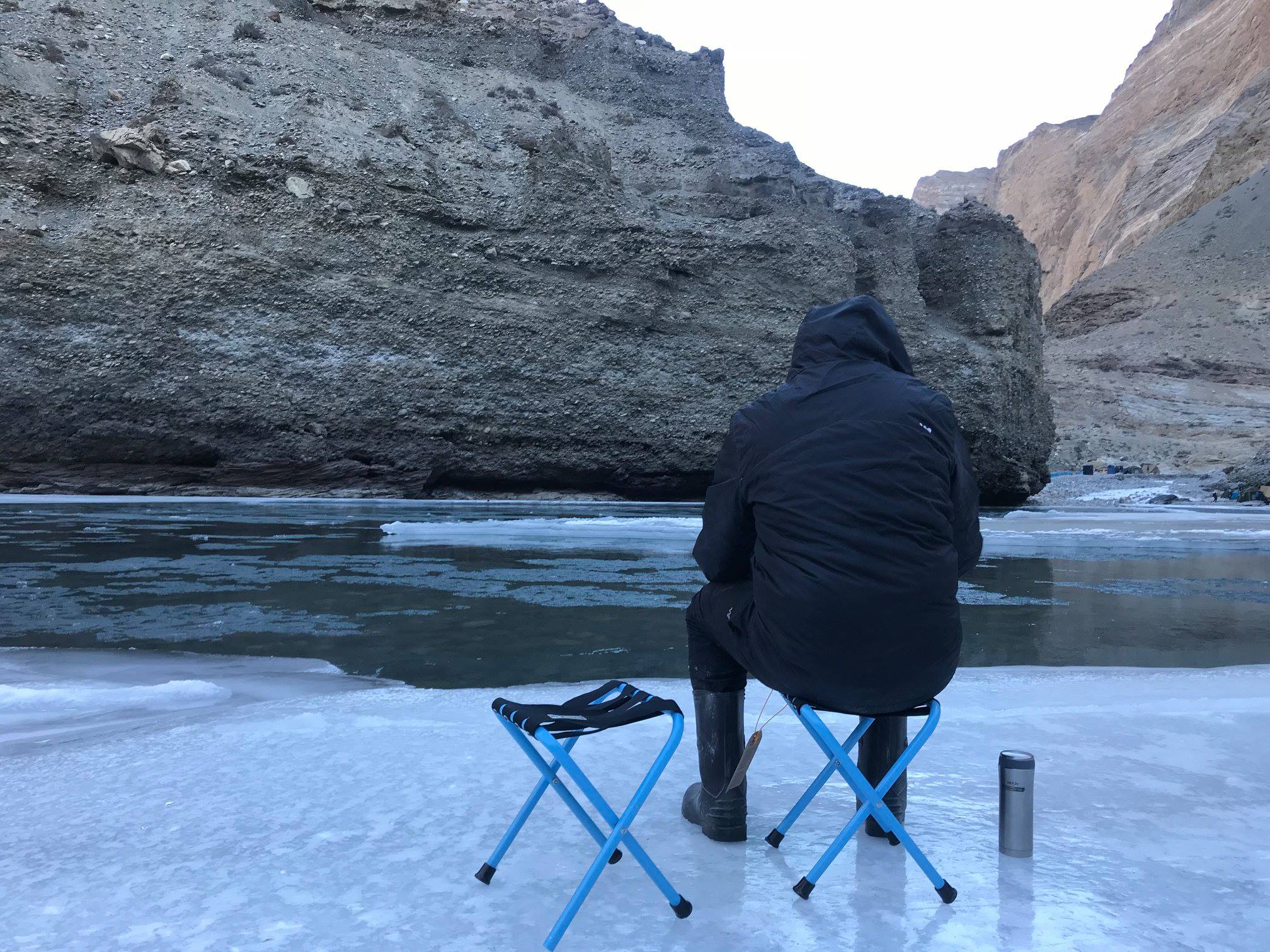 The Chadar Trek had the reputation of being the most unpredictable trek because it had several broken parts, and you could find yourself waist deep in a hole with ice cold water freezing your legs. At the Tibb Cave, the unusual terrain and shoreline made of a bed of rocks provided a sleeping space for 30 adults. As Krishna watched the water flow, he noticed something unimaginable, which was a green rain. "It was when I looked up that I noticed thousands of birds continuously pooping at the same time. I felt like taking a bath on that particular day" Krishna laughs in amusement.
The final stretch to the Nerak Waterfall is considered the most difficult of all the trails due to its length and the occurrence of the Chadar formation. Some travelers Krishna encountered on the way told him that although walking to the waterfall might not be difficult, surviving the night could pose a significant danger. After slowly moving forward, Krishna and his troupe reached the final camp with anticipation and anxiety. 'Frozen in time,' was an apt description of the scene before them.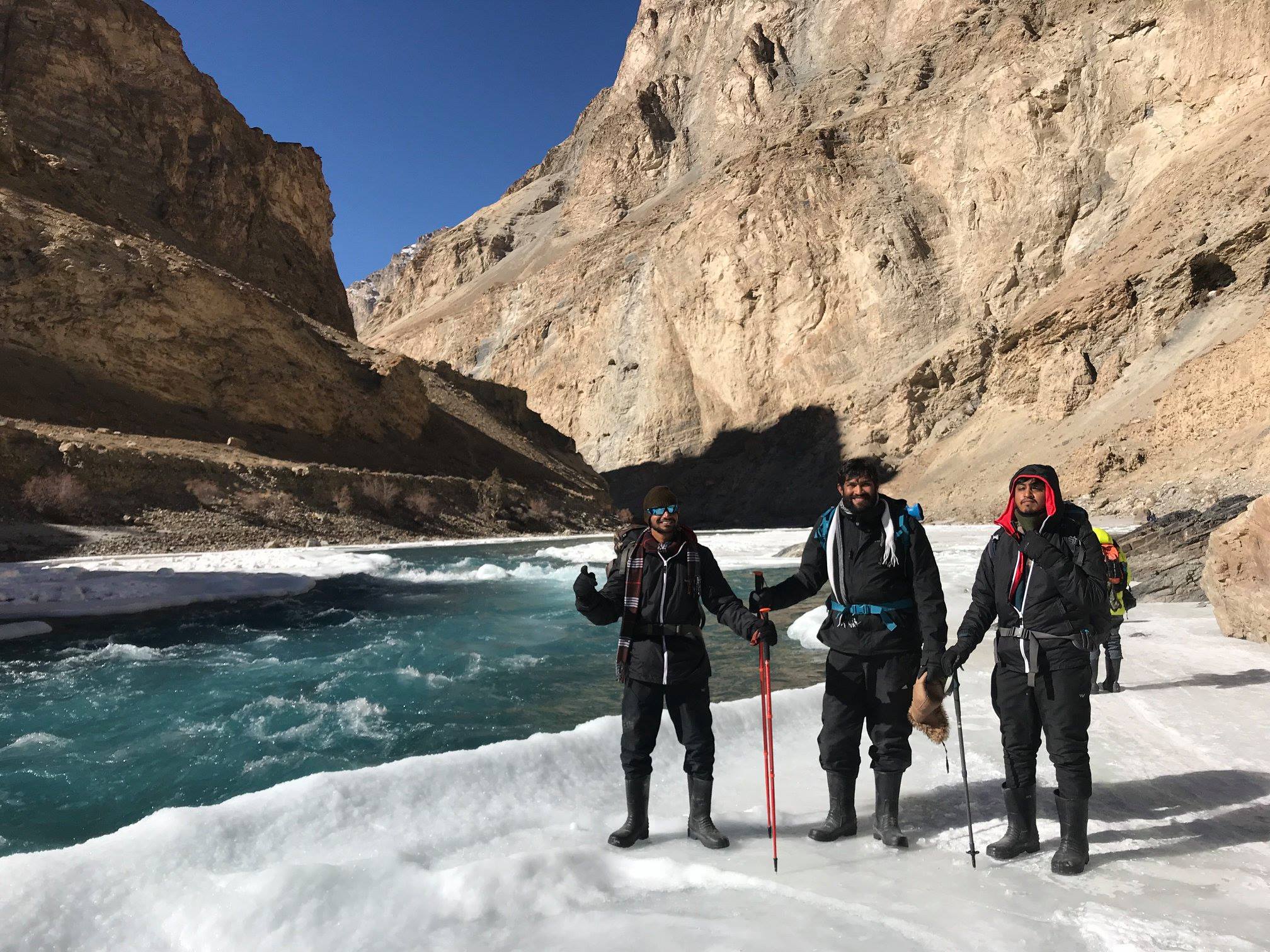 On top of the mountain, three kilometers beyond the waterfall, sat a village with a population of twelve individuals. Satellite telephone service was available, as well as a wine that was extremely well fermented and rock hard bread. Only five of us made the trip to the village to reconnect with our families and inform them of our safe journey thus far."
He achieved a high point in his life when, while knee-deep in snow at the top of Nerak Village after making phone calls to his family back home, he gazed up at the star-lit sky and was surrounded by snow-clad mountains and realized he had made it.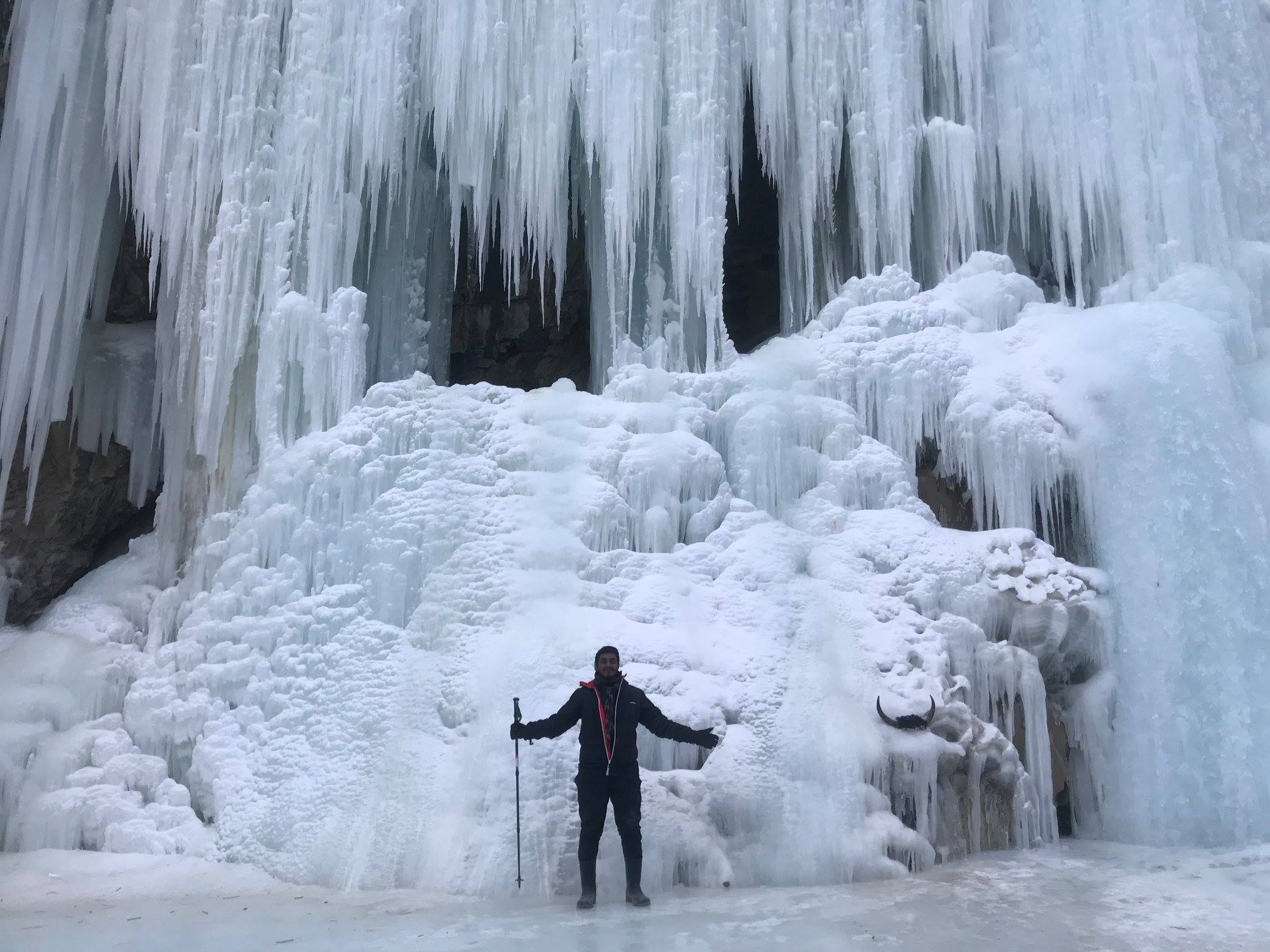 The group chose to return to the Tilad camp in half the time and with double the speed. As a result, they reached their destination in two days instead of three. Krishna had one last thing to do and without any inhibitions, he plunged into the unbearably cold Zanskar River.
"This was a truly amazing experience for me. It was an almost magical moment that I dived into the ocean as someone who feared death, and I came out as someone who simply loved life. I let go of everything, I was embracing the sun, smiling at the winds, breathing the sky and truly living my dreams!"
Word Of Advice
In Krishna's opinion, the experience of traveling to Chadar taught him valuable lessons that he can share with fellow travelers who are preparing for the feat.
It is imperative that you change your socks after every stage of your journey because frozen socks will sting and can lead to frostbite
Give yourself adequate time to acclimatize, so come early and stay for a few days
Test your fitness level on small treks at least a month prior to your trek as if you are traveling in a group, your inability should not leave others stranded
It is important to know that you will not be served a sumptuous fine dining experience, however, the food served will be nutritious and healthy
Please do not overpack your bag with unnecessary items
Purchase the best gum boots locally in Leh
Be sure to arrive in Leh early in order to have time to buy or rent any items that you may have forgotten on the trek
If you are particularly susceptible to sunburn, wear sunglasses and apply sunscreen lotion
Consider purchasing a down jacket
Don't overclothe yourself, as you will need 2 layers (bottom) and 3 layers (top) in the day and during the night as necessary